Recording, Connections for recording – Sony DSR-45/45P Manuel d'utilisation
Page 41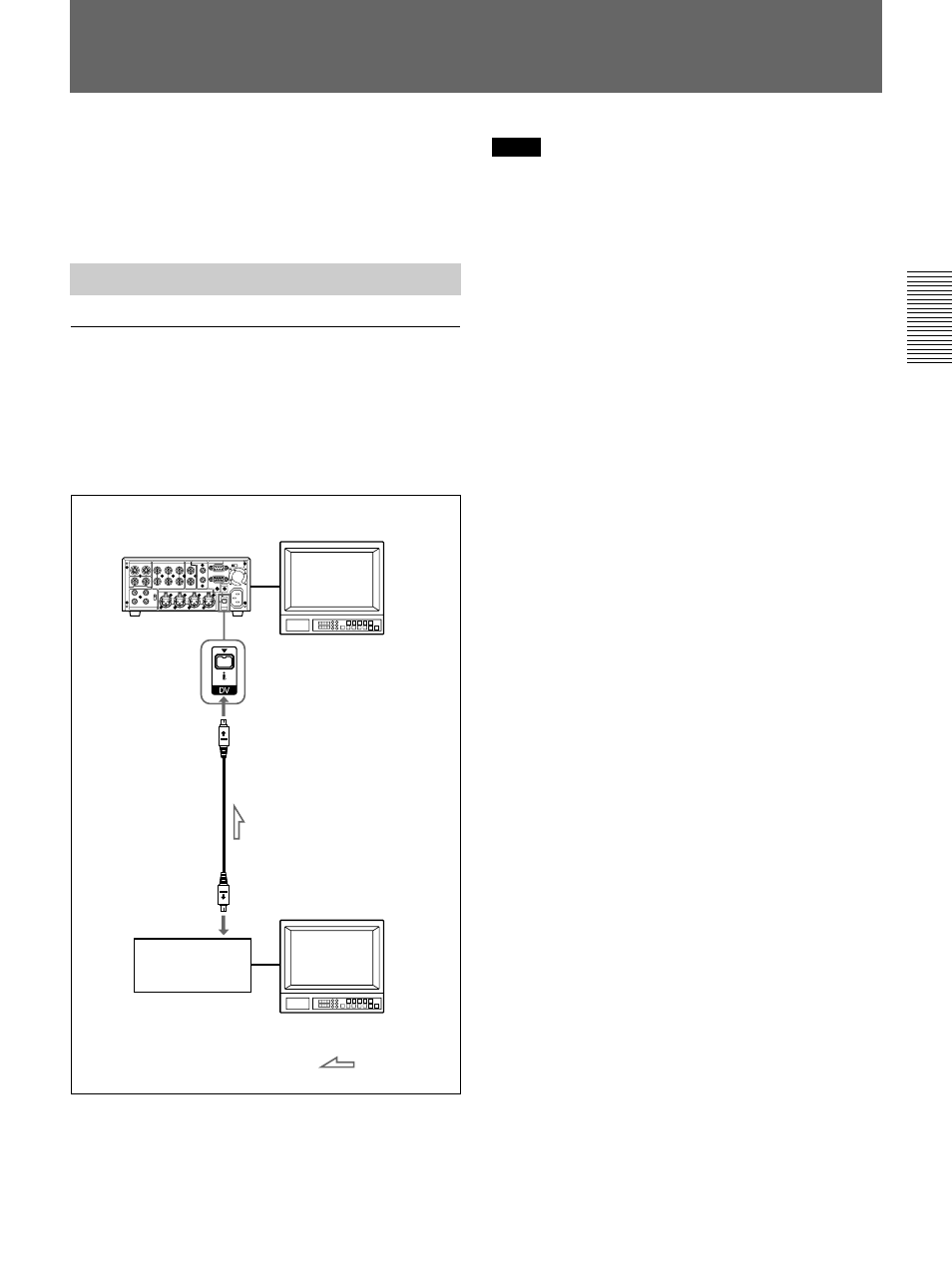 Chapter 2
Playback and Recording
41
(GB)
Chapter 2 Playback and Recording
Recording
This section describes the connections, settings and
operations necessary to perform recording on this unit.
The same settings and operations apply whether you
are using the unit for dubbing or as a stand-alone
recorder.
Connections for Recording
To digital video equipment with a DV jack
The video and audio signals are sent with hardly any
degradation, enabling high-quality recording. The
signal flow is automatically detected so you do not
need to make separate connections for input and
output.
Notes
• With the DV connection, the sound is recorded in the
same audio recording mode as that of the source tape.
To record in a different audio recording mode from
the source tape, use the analog connection instead.
• With the DV connection, data codes (recording date/
time, camera data) recorded on the source tape are
transmitted to the recorder (this unit). As a result,
when you play back a recorded tape on this unit and
press the DATA CODE button on the Remote
Commander, the same data codes as those recorded
on the source tape are displayed on the monitor
screen. However, the contents of the cassette memory
are not transmitted. If you want to transmit the
contents of the cassette memory, use the duplicate
function.
• If no picture appears via the DV jack, disconnect the
i.LINK cable (DV cable), then reinsert it straight.
• When connecting a device that has a 6-pin DV jack to
this unit, first, connect the plug of the cable to the 6-
pin DV jack.
• If the unit is connected to a device equipped with a 6-
pin DV jack, when you intend to disconnect or
reconnect the DV cable, turn off the device and pull
out the plug of its power cord from the AC outlet
beforehand. If you connect or disconnect the DV
cable while the device is connected to the AC outlet,
high-voltage current (8 to 40 V) is output from the
DV jack of the device to this unit, which may cause a
malfunction.
• If DV input has been selected, the video signal output
from the unit may be distorted, depending on the
digital video equipment connected.
• If you connect the output connectors of this unit to
the input connectors of a player or that of a monitor, a
humming noise may be generated or the image may
be distorted. If these phenomena occur, perform one
of the following:
– Set DV EE OUT on the VTR SET menu to OFF.
– Set the INPUT SELECT selector to a position
where a signal is not currently being input.
– Disconnect the cables.
DSR-45/45P (rear panel)
Monitor
i.LINK cable
(DV cable)
(not supplied)
DV jack
Digital video
equipment with a
DV jack
: Signal flow
Monitor