Projector body, Nglish - 12, About your projector – Panasonic PT-LB51SU Manuel d'utilisation
Page 12: J top and front view, J control panel, Preparation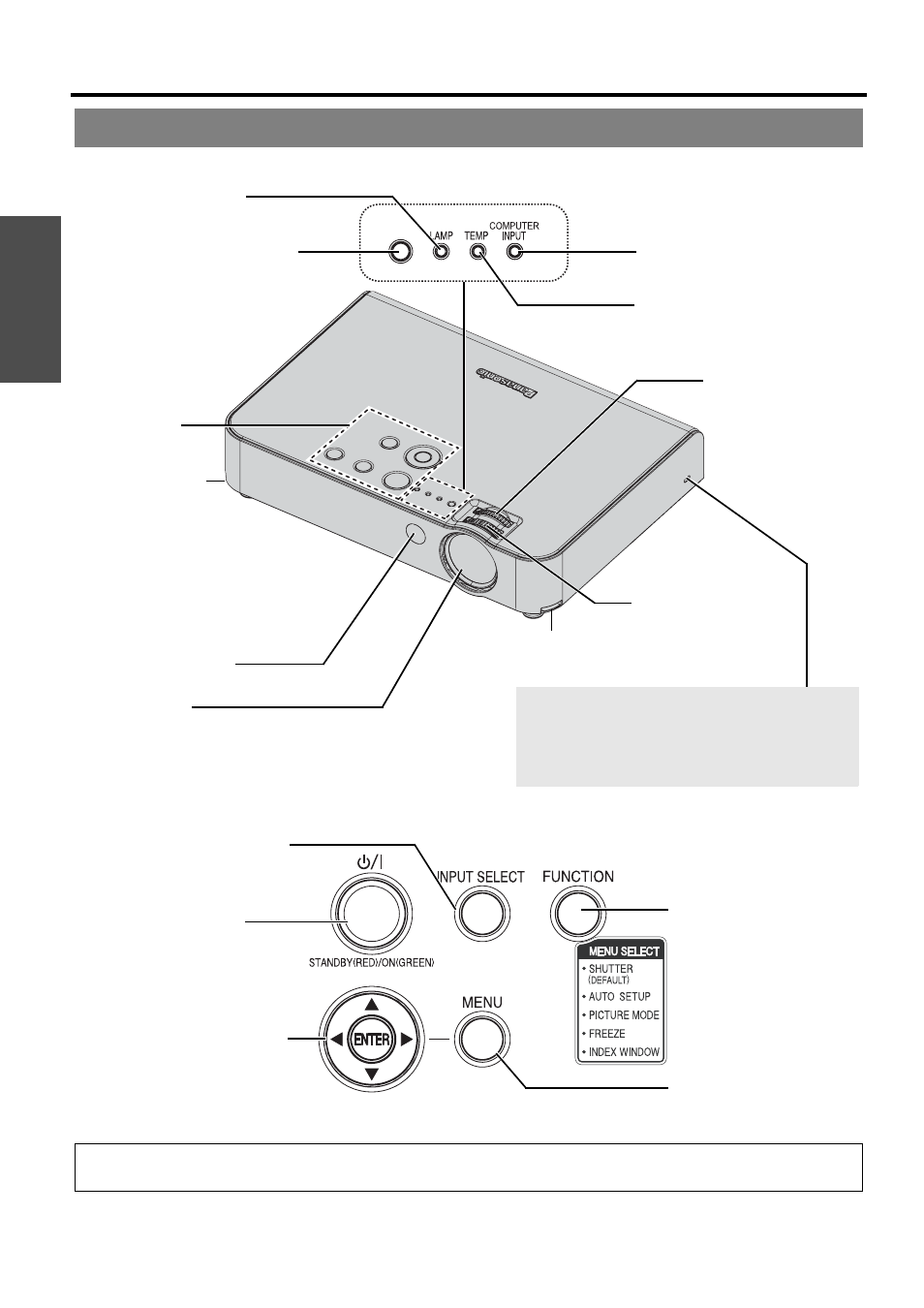 Preparation
About Your Projector
E
NGLISH - 12
J Top and front view
Projector body
NOTE:
• Do not cover the ventilation openings or place anything within 15 cm (6") of them as this may cause damage or injury.
MENU
Display the MAIN MENU.
POWER
button (page 20)
POWER
indicator (page 20)
Switch between stand-by mode
and projection mode.
Navigation
Navigate through the menus with
FGIH, and activate the menu
item with ENTER.
FUNCTION
button (page 34)
INPUT SELECT
button (page 22)
Switch to cycle through the input
method.
Focus ring
J Control panel
Zoom ring
Font leg adjuster
(L) button (page 17)
These buttons are
used to unlock the
front adjustable legs.
Press to adjust
the angle of tilt of the
projector.
Control panel
Security lock
This can be used to connect a commercially-available
theft-prevention cable (manufactured by Kensington).
This security lock is compatible with the Microsaver
Security System from Kensington.
Luminance Sensor
(page 31)
This sensor detects the luminance
when the "DAYLIGHT VIEW"
function is operating. Do not cover
the projector and do not place any
object on the projector when
using it.
TEMP
indicator (page 39)
COMPUTER INPUT
indicator
This indicator illuminates when a
signal is being input to the
connector (COMPUTER1 IN or
COMPUTER 2 IN) selected using
the INPUT SELECT buttons.
LAMP
indicator (page 39)
Projection lens
Remote control signal
receptor
Font leg adjuster
(R) button