Picture adjust, Brightness/contrast/color/hue – Pioneer AVD-W6210 Manuel d'utilisation
Page 17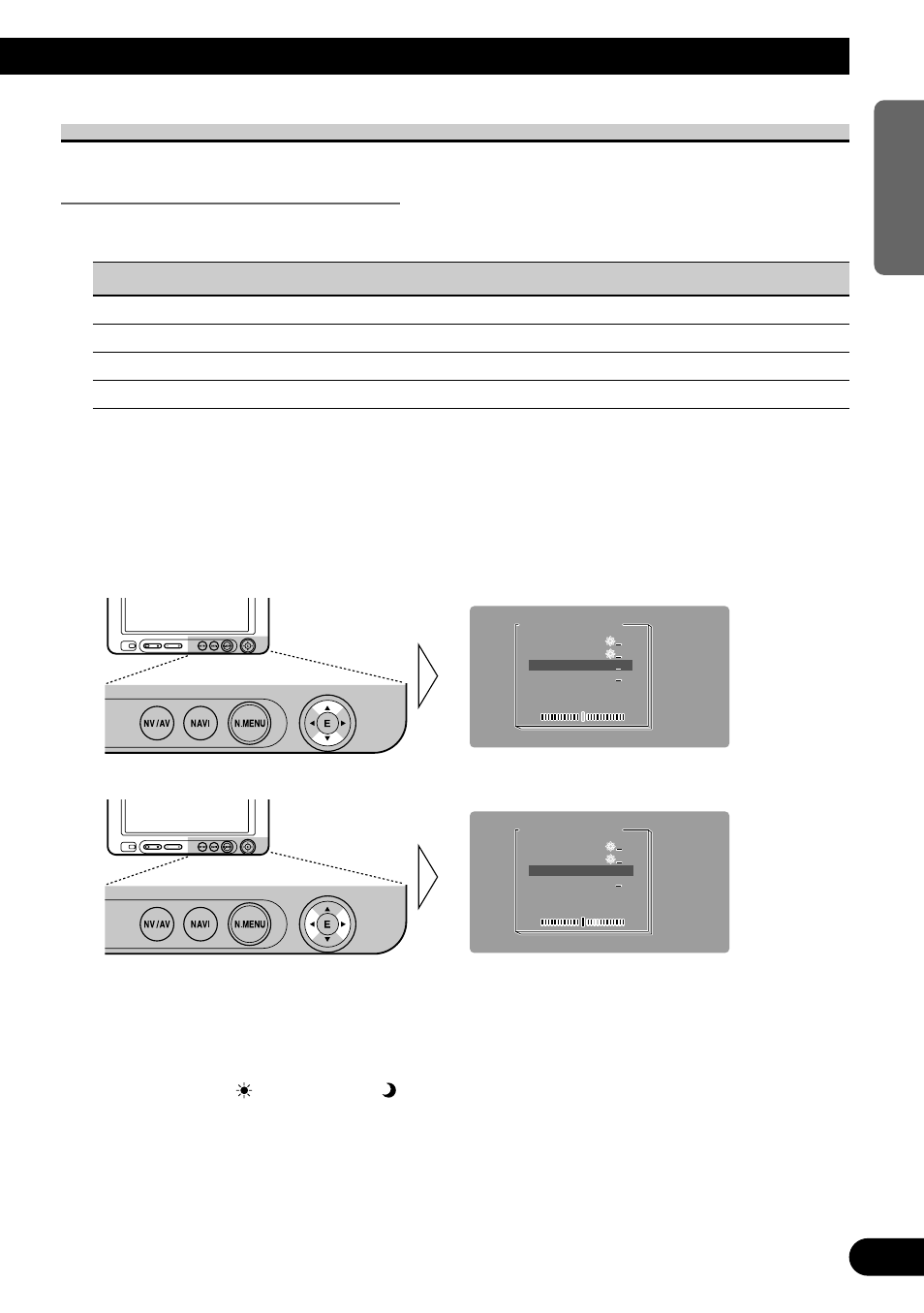 Picture Adjust
BRIGHTNESS/CONTRAST/COLOR/HUE
Settings are stored for each source (NAVI SOURCE, AV IN1, AV IN2).
Options
Adjustment items
Brightness [BRIGHTNESS]:
Makes black appear darker or lighter.
Contrast [CONTRAST]:
Narrows or widens the gap between black and white (darken).
Color [COLOR]:
Makes colors appear lighter or darker.
Hue [HUE]:
Adjusts red or green of picture.
Any of the above can be adjusted within the range of -24 to +24.
1. Display a source to adjust. (Refer to page 12.)
2. Display the setup menu and select [PICTURE ADJUST].
(Refer to the previous page.)
3. Select an item to adjust.
4. Adjust the item.
Note:
• The settings of [BRIGHTNESS] and [CONTRAST] are stored separately for light ambient (day-
time) and dark ambient (nighttime).
• A yellow mark (
) or blue mark (
) is displayed to the right of [BRIGHTNESS] and
[CONTRAST] on the screen, respectively, as the front-panel ambient light sensor determines
brightness or darkness.
• [COLOR] and [HUE] cannot be adjusted for navigation images.
D I
D I MME
MMER
RE TURN
RN
_
D I MMER
RE TURN
__
+
_
+
P I C T URE ADJUST
URE ADJUST
B R I GH
GHTNE
NESS + 0
CONT
CONTRAS
RAS T
+ 0
0
HUE
HUE
+ 0
0
P I C T URE ADJUST
B R I GHTNESS + 0
CONTRAS T + 0
COLOR + 5
HUE + 0
P I C T URE ADJUST
URE ADJUST
B R I GH
GHTNE
NESS + 0
CONT
CONTRAS
RAS T
+ 0
0
HUE
HUE
+ 0
0
D I
D I MME
MMER
RE TURN
RN
_
+
P I C T URE ADJUST
B R I GHTNESS + 0
CONTRAS T + 0
COLOR + 0
HUE + 0
D I MMER
RE TURN
_
+
16
ENGLISH
ESPAÑOL
DEUTSCH
FRANÇAIS
ITALIANO
NEDERLANDS