Program out connection, Hdmi input connection, English program out connection (prog out) – Panasonic CT-32HC15 Manuel d'utilisation
Page 10: Procedure, Input can be connected to an eia/cea 861, Compatible formats connection diagram, Ptional, Quipment, Onnections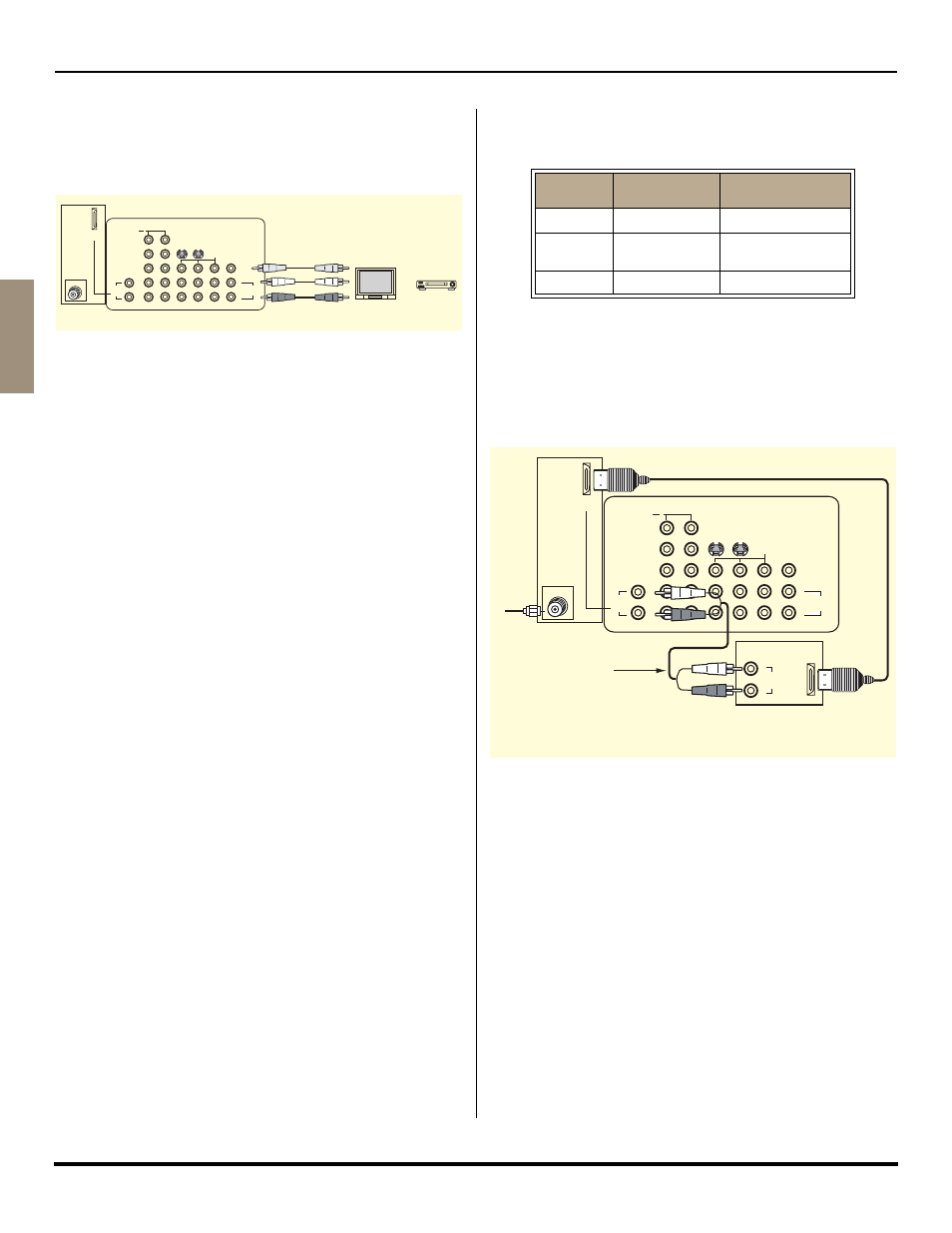 8
z
O
PTIONAL
E
QUIPMENT
C
ONNECTIONS
ENGLISH
Program Out Connection (PROG OUT)
To use the television audio and video with optional equipment,
connect the PROG OUT and TO AUDIO AMP connections on the
back of the television.
Note:
If the Main Picture signal is HDMI or Component Video
Input, no Program out signal will be available.
Note:
Rear A/V jacks diagram may vary, depending on model.
Please refer to the FEATURE CHART on page 3 for your
model capabilities.
Procedure
•
Connect optional equipment to PROG OUT and TO
AUDIO AMP terminals.
•
PROG OUT terminal display is the same as on-screen
display.
•
See optional equipment manual for further instructions
for recording and monitoring.
HDMI (High Definition Multimedia Interface)
input connection
Note:
HDMI input is not available in model CT-27HC15.
About HDMI
HDMI is the first all digital consumer electronics A/V
interface that supports several uncompressed standards,
enhanced and high definition video formats as well as
existing multi-channel audio format. One jack supports both
video and audio information. The HDMI/HDCP
1
input can
be connected to an EIA/CEA 861
2
compliant consumer
electronic device, such as a set top box or DVD player
equipped with an HDMI or DVI output connection. By
inputting a High-bandwidth Digital Content Protection
(HDCP) high definition picture source to the HDMI terminal
of this TV, high definition pictures can be displayed on the
screen in their digital form. The HDMI input terminal is not
intended to be used with personal computers. This TV is
compatible with 1080i, 480p and 480i formats. Select the
output of the connecting device to match that of the TV.
Notes:
1.
HDMI/HDCP = High Definition Multimedia Interface /
High-Bandwidth Digital Copy Protection.
2.
EIA/CEA-861 Profiles compliance covers profiles for
transmission of uncompressed digital video including
high bandwidth digital content protection.
Compatible formats
Connection diagram
Follow the diagram below to connect the TV to a set top box or a
DVD player.
Procedure
•
Connect the HDMI output from the set top box or a DVD
player to the HDMI input on the back of the TV.
•
Press TV/VIDEO button on the remote control to select
HDMI input. The interface on the TV is an HDMI Type A
connector.
•
If the external device has a DVI output only, use a DVI to
HDMI adaptor cable*
3
to connect to the HDMI jack on
the TV. Also, connect the Audio Out signal from the
external device (set top box or DVD player) to the Audio
In*
4
jacks below the HDMI input.
•
If you cannot display the picture because your Digital Set
Top Box does not have a Digital Out terminal setting, use
the Component Video Input (or the S-Video Input or
Video Input). In this case, the picture will be displayed as
an analog signal.
Notes:
*3. HDMI-DVI conversion cable (TY-SCH03DH) available
on Panasonic Website: www.panasonic.com (only
for USA customers).
*4. Please refer to pages 10 and 11 for Audio setting detail.
S-VIDEO
COMPONENT
VIDEO INPUT
VIDEO
PROG
OUT
VIDEO
INPUT
Y
P
B
P
R
L
R
1
2
3
1
2
L
R
TO AUDIO
AMP
AUDIO
IN
ANT
HDMI
AV IN
CABLES NOT INCLUDED
TERMINALS ON BACK OF TELEVISION
PLAY
STOP
R
E
W
FF
or
Monitor
VCR
This TV is compatible with the following formats. Please
set the connecting device to the following format.
Video signal
Audio signal
When digital audio is included in the HDMI connection,
the compatible sampling frequencies are 48 KHz /
44.1KHz / 32 KHz.
Format
No. of dots
Vertical scanning
frequency (Hz)
1080i
1920 x 1080i
59.94 / 60
480p
720 x 480p
640 x 480p
59.94 / 60
59.94 / 60
480i
720 x 480i
59.94 / 60
* The HDMI connector on this television is Type A.
TERMINALS ON BACK OF TELEVISION
Incoming
Cable
EXTERNAL DIGITAL
COMPONENT
HDMI
OUT
CABLES NOT INCLUDED
S-VIDEO
COMPONENT
VIDEO INPUT
VIDEO
PROG
OUT
VIDEO
INPUT
Y
P
B
P
R
L
R
1
2
3
1
2
L
R
TO AUDIO
AMP
AUDIO
IN
ANT
HDMI
AV IN
AUDIO
OUT
L
R
Note: Use analog audio when
digital audio is not available