Watching two programs at one time ム pip, Watching two programs at one time, Watching two programs at one time — pip – Sony KP 61S70 Manuel d'utilisation
Page 23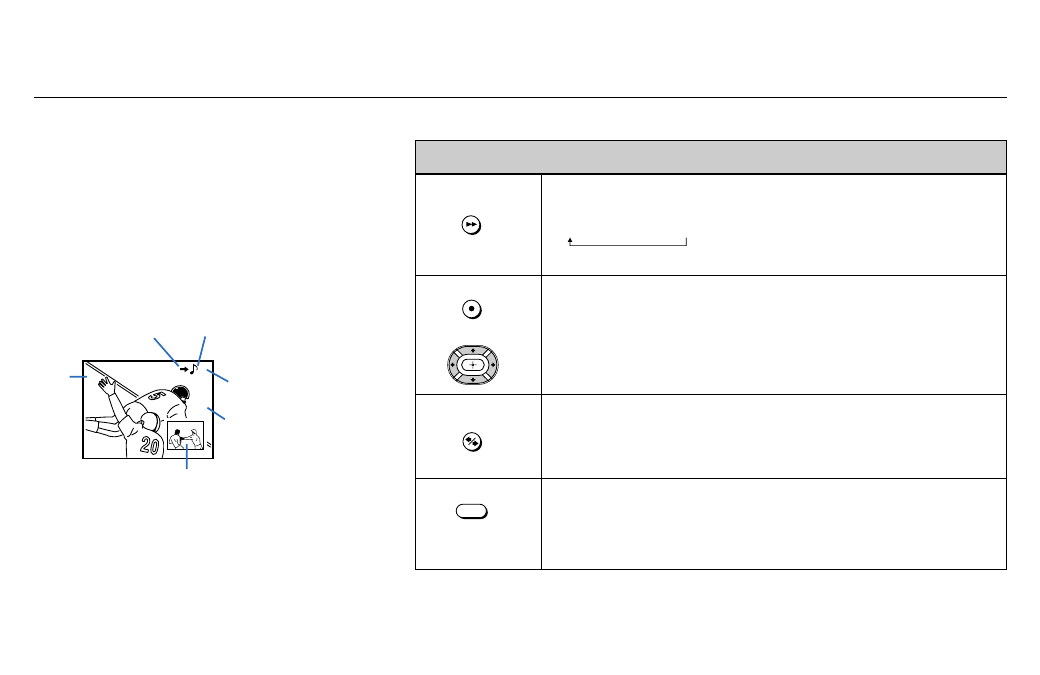 19
6
10
(white labeled
button)
Press to display a window picture.
Each time you press this button, the picture size will change
(1/9
n
1/16
n
no display).
To close the window picture, press PIP repeatedly until it disappears.
Press POSITION repeatedly to change the location of the window picture
(counterclockwise) around the main picture.
You can also change the location by pressing the
V
,
v
,
B
or
b
button.
The window picture moves in the direction of the arrow indicated on the
pressed button.
Press to select either the main or window picture in order to change the
TV channel or video source using the white labeled buttons below. The
symbol "
b
" (or "
B
") will appear to indicate which picture's channel or input
mode can be changed.
Press repeatedly to scroll through the available video inputs for the
picture on which the symbol "
b
" (or "
B
") is displayed. (see "TV/VIDEO" on
page 17)
The Picture-in-Picture (PIP) feature allows
you to view two channels simultaneously,
one in the full size "main" picture and one in
a smaller "window" picture.
You can move the window picture to any
location on the screen.
* It will dim in about 3 seconds.
Tip
z
If you press RESET in PIP mode, the window picture
will move to the bottom right (factory-preset location).
Watching Two Programs at One Time — PIP
Using the Yellow Labeled Buttons for PIP Operations
Main
picture
The symbol "≥"
indicates which
picture's sound is being
received.
TV channel or input-
source mode for the
main picture* (yellow-
green-colored)
TV channel or input-
source mode for the
window picture*
(white-colored)
Window
picture
The symbol "b" or "B"
indicates which picture's
TV channel or input
source can be changed.
TV/VIDEO
PIP
POSITION
ACTIVE
or