Getting started, Checking the supplied items, Ac power cord (mains lead) – Sony ICF-CL70 Manuel d'utilisation
Page 11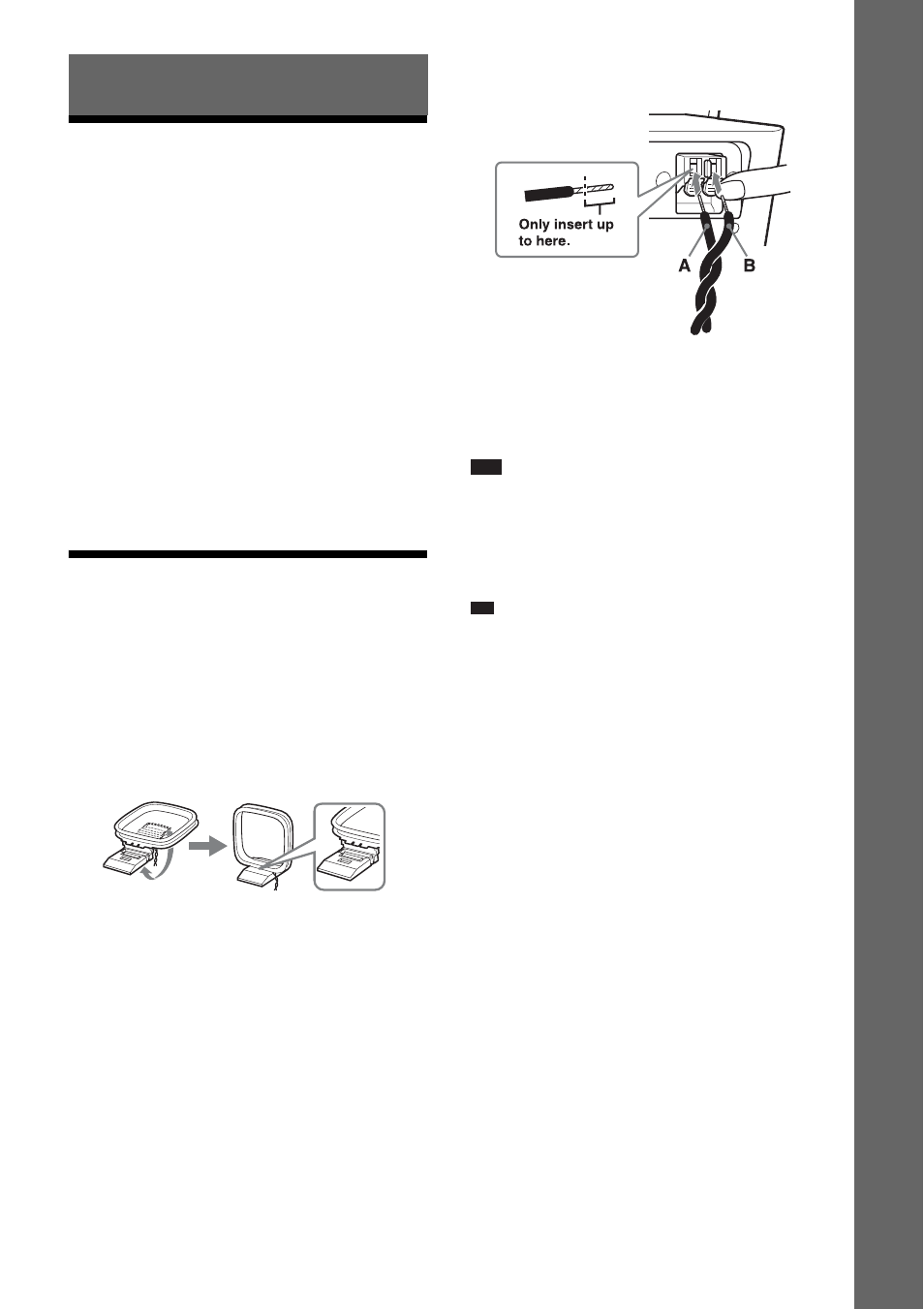 11
GB
Ge
tting star
ted
Checking the supplied
items
Make sure that the following items are supplied:
• FM/AM Clock Radio (1)
• AM loop aerial (1)
• Operating Instructions (this manual) (1)
• Warranty (1) (In some countries or regions, the
warranty is not supplied.)
• Universal dock adaptor for iPhone (1) / iPhone
3G & iPhone 3GS (1) / iPhone 4 (1)
(ICF-CL75iP only)
• Sony CR2032 lithium battery (1) (In some
countries or regions, the lithium battery is
already set in the unit.)
Connecting the AM
aerial and AC power cord
(mains lead)
1
Remove only the loop part from the
plastic stand.
2
Set up the AM loop aerial.
3
Connect the cords to the AM aerial
terminals.
• Cord (A) or cord (B) can be connected to
either terminal.
4
Make sure the AM loop aerial is
connected firmly by pulling gently.
Note
• Do not place the AM loop aerial near the unit or other
AV equipment, as noise may result.
• The shape and the length of the aerial is designed to
receive AM signals. Do not dismantle or roll up the
aerial.
Tip
• See page 16 about determining the place for the aerial
and its orientation for good reception.
5
Connect the AC power cord to the wall
outlet (wall socket).
• The clock screen in the default setting
appears.
Getting started
Push down and hold
the terminal clamp
and insert the cord.